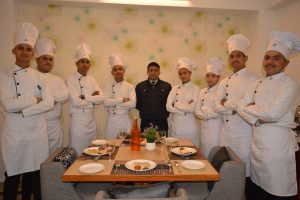 Career in Hotel Management – Hospitality Industry
Career in Hotel Management – Hospitality Industry is a great starting point for every young person. It teaches them customer service which is the basis of nearly every role they are ever going to perform.  Having great customer service skills will carry them throughout life.
With a Degree and Diploma in Hotel management opens up many more opportunities for students and will also make them better-rounded individuals.
Following are the reasons to pursue career in Hospitality Industry from  the Best Hotel Management College in Dehradun –  HIT Dehradun :
Team Work is the dream work
Hospitality teaches the importance of Team Work. Not many cafes and restaurants have single-  person teams so you have to learn how to work with others and the importance of team work.
In HIT Dehradun  faculties  make sure that their students should learn and develop the importance of Team Work by performing in groups.
Great Perks
Every career field and industry offers perks to employees, but employees get most of  benefits in hospitality industry which covers Hotels, Restaurants and similar companies  tend to stand out as more interesting than others.
The employee benefits of the hospitality industry makes it a very attractive career option and they can avail these opportunities  by enrolling themselves  for BHM  Bachelor of Hotel Management degree course of HNBG Cental University at HIT Dehradun .
 It opens door to the world
Every country in the world has a hospitality industry  and the skills you will learn while studying hotel management at HIT Dehradun institute of  hotel management will take you around the world by providing endless opportunities in hospitality Industry which will land a successful placement in Top 5 star properties such as JW Marriott, Taj, Shangri La, The leela, ITC , Oberoi etc.
It is Demanding and Stable
The demand for hospitality jobs will never run out as long as there are people and food and this makes hospitality one of the most stable industry in the world. It also makes hospitality one of the most ideal providers of lasting and solid careers. Offering more then merely financial benefits, the sector is an ideal choice if one's goals are growth and stability.
Room to grow
The Bachelor's In Hotel Management  course from HIT  Dehradun allows students to develop themselves professionally and as a  person by providing personality development programmes  and communication classes to students which will  help individual student to grow in such a way that they become proficient hotelier.
These five reasons are just a small glimpse  of what you can achieve after completing Bachelor's in Hotel Management  Degree as well as  Diploma from  HIT Dehradun  that will open doors for students to avail exciting jobs all over the world.
https://hitdoon.com/institute-hotel-management-BHM-college-dehradun.php